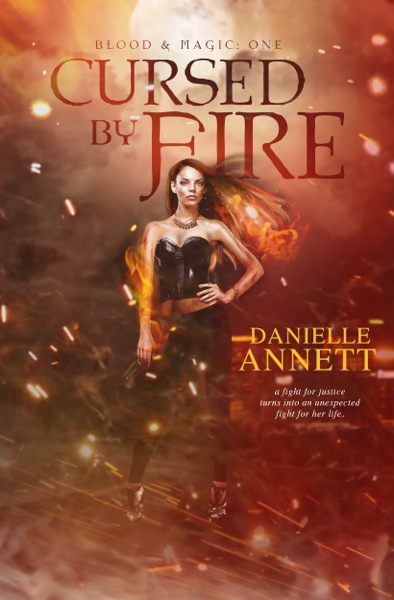 Cursed by Fire
Author: Danielle Annett
Release Date: January 28th, 2015
Genre: Urban Fantasy, Paranormal
Designer: Mae I Design
It has been six years since the Awakening and peace in Spokane, Washington is still tenuous at best. The vampires and shifters are all vying for control of the city and the humans seem to be the ones suffering the consequences, or so it seems.
Aria Naveed has spent the last two years of her life fighting to make the many wrongs of the world right, but soon finds out that the humans aren't as weak as they appear and may be a more terrifying foe than any of the other races combined.
When a stranger rolls into town with trouble on his heels, Aria finds herself trapped in the middle of a battle that could cost her more than she has bargained for as a fight for justice turns into an unexpected fight for her life.
Buy links: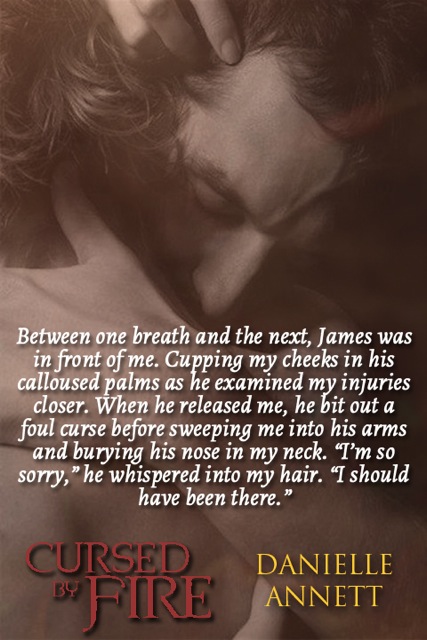 Excerpt
All I saw was blood. Blood soaked my hands and coated the walls. It stained the concrete flooring of the abandoned warehouse and dripped from fixtures that hung from the ceiling, trickling like a slow rain. My vision blurred as anguish filled me. How could this have happened? How could I have been too late?
I stared down at the lifeless body of a child. A boy. Kneeling in a pool of congealing blood, I ran my fingers through his chestnut hair, ignoring the now-cool moisture seeping into the denim of my pants. His face was unrecognizable. Gone was the child with the dimpled cheek and brilliant blue eyes. Left behind was a mass of flesh and bone—a ruined body drained of its life force at such a young age.
Reality snapped like an elastic band, bringing me back to the present as I sat at my desk in Sanborn Place. Ripped from the haunted memories of finding Daniel's body.
The world was a cruel place. It was a fact of life and even though I knew it was true, I still had a hard time coming to terms with the atrocities people committed. The cruelties that for some god-forsaken reason, people thought were okay. Staring down at the wallet-sized photo now crumpled in my hands, I was greeted by a crown of chestnut hair, bright blue eyes, a heart-shaped face, and a brilliant smile; a single dimple on his left cheek. The face of an innocent seven-year-old boy, cut down like he was little more than a calf brought to slaughter. I found myself struggling to link the image of this smiling boy to that of the ruined body I'd found less than forty-eight hours ago.
Inside, a small part of me burned. My blood heated and a turbulent rage rolled through me, one I had to fight to contain.
"Ari, you've got to stop staring at the kid. He's gone. Let it go," I heard Mike say.
I couldn't let it go. I didn't understand how he could either. I looked up from the photograph and stared Mike straight in the eyes. He cringed but held my gaze.
"He was seven-years-old, Mike," I said through clenched teeth. "Seven!"
I shook my head, the poor kid had barely lived, barely tasted what the world had to offer. I take that back, he'd tasted too much of what the world could give and it had cost him.
Ever since the Awakening six years ago when all things that went bump in the night decided to come out of the woodwork and play, safety had been tenuous at best and kids like this, like seven-year-old Daniel Blackmore, were suffering the price.
Vampires, shifters, mages, witches and many more creatures of the night so to speak had seemingly popped out of nowhere, deciding they were ready to integrate themselves into everyday, or night, society.
Daniel had been abducted by a rogue vampire. I'd found his mangled body, broken and discarded as if he were nothing more than a piece of trash and I was going to find the bastard that had killed him and make him pay.
"Ari, I know what you're thinking and the answer is no."
I looked Mike up and down. He was an older man in his late forties with a streak of silver in his otherwise midnight colored hair. The wrinkles around his eyes would lead you to believe he smiled a lot but I knew better. Those lines were from his ever-present frown. Dressed in black slacks and a grey button up shirt, his mid-section strained against the buttons looking like they could pop off at any moment, likely taking someone's eye out in the process.
"I wasn't asking for your permission," I told him, my gaze going back to the photo.
"I don't give a rat's ass if you were asking. I'm telling you, Ari, let it go! You can't help him anymore. All you'll end up doing is getting yourself hurt or worse, killed for your trouble."
That was the problem with people who had lived through the Awakening. Their only concern was self-preservation. Nothing else mattered. Well, screw that because this little boy, he mattered. His life mattered and he deserved justice. I had scrubbed my hands after finding his broken body but couldn't scrub the stain his death left on my soul.
I stood up from my desk and grabbed my keys and daggers. I sheathed the twin blades on either side of my waist, grabbed my leather jacket, and made a beeline for the door. Mike crossed the room to intercept me, arms folded over his chest blocking my way.
"Move," I bit out.
"No."
"I can move you."
"You can, but you won't."
I ground my teeth together. He was being ridiculous. This entire situation was ridiculous.
"Mike, this isn't some game. A little boy died. He died! Does that even matter to you? I couldn't live with myself if I let this one go."
"What's your plan, Ari, you going to just storm into the coven and force them to tell you who did it? They won't tell you. They protect their own and you're one person against an entire Coven of bloodthirsty vampires. Even the kid's parents know it's a lost cause. They've dropped the case and are focusing on burying their kid. They're coming to terms with his death. It's over."
I'd been hired by Jessica Blackmore, Daniel's mother, a little over two weeks ago to find her son who'd gone missing one afternoon. He had been walking home from a friend's, only five houses down from his own, but never made it to the front door. She'd thought it safe enough to allow him the small bit of independence but with paranormals about, it was never truly safe.
Mike knows I'm different. He knows I have pyrokinetic abilities and he knows I can take care of myself. This wasn't reason talking, this was him being overprotective. Feeling the temperature in the room begin to rise I forced myself to inhale and exhale slowly. Trying to calm down and keep my pyrokinesis locked up tight. It wouldn't help the situation to start a fire. All it would do is prove to Mike that I wasn't in control and right now I was in no mood for a lecture.
"Look, Ari, you're a mercenary. You take on a job when you have a client. There is no client so there is no job. We're not the police. We don't try to clean up the streets or bag the bad guys. We're mercs."
I couldn't blame him for his way of thinking. Hell, two weeks ago I would have said the same thing, but this was different. He was just a kid and I couldn't believe everyone was so willing to leave his murderer out there.
"Why don't—"
Mid-sentence I heard the distinct buzz of a cell phone. Mike dug his phone out of his left pocket and answered it without looking at the screen.
"Hello," he said. Mike's face scrunched in confusion, a furrow forming between his brows. He listened for several moments and then with a grunt he hung up and stared me down. At six feet tall, he towered over me by a good five inches, but I didn't back down. Lifting my chin and giving him my best try me stare. The one I knew drove him crazy.
"Looks like you're getting exactly what you asked for," he said.
"And what exactly is that?"
"That was Declan Valkenaar on the phone."
Holy shit, the Pack Alpha. What the hell was he doing calling Mike?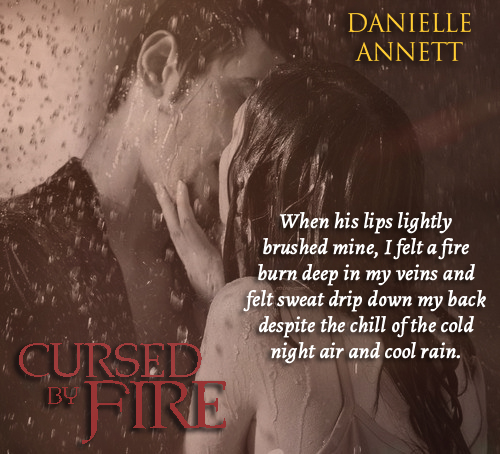 Behind the scenes look at how Cursed by Fire's cover came to be: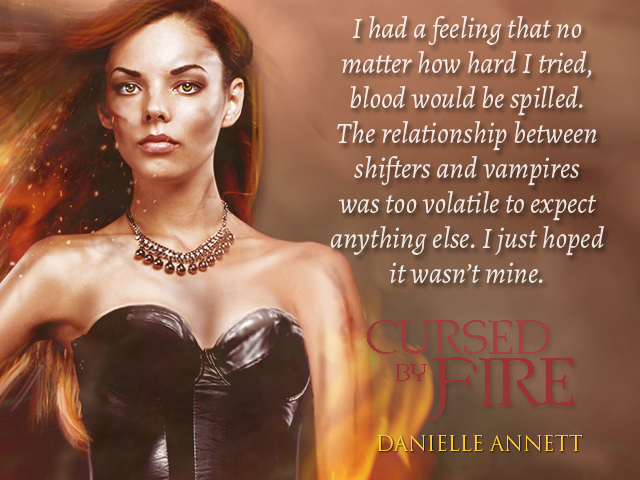 About Danielle Annett

Danielle Annett is a reader, writer, photographer, and the blogger behind Coffee and Characters. Born in the SF Bay area, she now resides in Spokane, WA, the primary location for her Blood & Magic series.
Addicted to coffee at an early age, she spends her restless nights putting pen to paper as she tries to get all of the stories out of her head before the dogs wake up the rest of the house and vie for her attention.
Website: http://danielle-annett.com/
Facebook: https://www.facebook.com/AuthorDanielleAnnett
Twitter: https://twitter.com/Danielle_Annett
Goodreads: https://www.goodreads.com/author/show/7771866.Danielle_Annett